Description
To achieve efficiency and high quality during the experiment, it is necessary to have support from the right equipment. In particular, the wall-mounted lab bench plays a vital role in the research process. So, in the article below, we will introduce you the product wall-mounted laboratory table
What is a wall-mounted lab bench?
The wall-mounted laboratory table is an ideal choice for using laboratory instruments and equipment, and it is also a place to conduct experiments. The table has many options, such as chemical shelves on the top and storage cabinets. Store tools under the table, sink, and exceptional chemical-resistant faucet to help bring convenience during use. Wall-mounted laboratory tables also have many variations, such as L-shaped desks and U-shaped tables, often positioned against the wall in the corner of the room.
Features of wall-mounted laboratory table
The wall-mounted laboratory table is an important supporting piece of furniture during the experiment. As the name suggests, these tables are usually placed close to the wall. The wall-mounted desk has the following features:
Storage of experimental instruments, with a storage compartment, after the experiment turns into

The table top is made of high-quality materials with excellent chemical resistance, such as chemical resistant Phenolic, Epoxy resin, and stainless steel, …

Possibility of simple installation using joints with bolts and screws

The wall-mounted laboratory bench has good heat and shock resistance, exceptionally resistant to chemicals such as acetic acid, alcohol, sulfuric acid, bases, solvents, etc.

The table is designed to resist corrosion to most aggressive chemicals such as acids, bases, dyes, solvents, etc.

The highly customizable, load-bearing table can place heavy analytical equipment on the tabletop.
Advantages of using a laboratory table
It's no coincidence that lab tables are becoming more and more popular. In addition to the basic features, the laboratory table also has the following outstanding advantages:
The long table system is assembled in a modular form for easy monitoring, replacement, repair, and inspection.

Table legs are made of stainless or powder-coated steel with environmentally friendly epoxy components. Resistant to scratches and corrosion, easy to clean

The table also has good impact resistance, water resistance, moisture resistance, explosion resistance, and high-temperature resistance.

The table frame is solidly designed, with many designs to choose from. Central laboratory table frame, single laboratory table frame, equipment table frame. In addition to the usual laboratory benches, we also have the adjustable height test bench.

Upgrade storage space with cabinets made of industrial wood, phenolic with water resistance, moisture resistance, …

The table is custom designed according to the customer's needs to fit the used area.
Application of wall-mounted laboratory table
The wall-mounted laboratory table is mainly applied in the research rooms with the following applications:
The laboratory table is ideal for storing bottles of familiar and frequently used chemicals. In addition, the table also has more options for sinks, shelves for chemicals, and tools to be flexible in use.

This equipment is popularly used in laboratories of food, chemical, microbiology factories, schools, hospitals, and scientific research institutes, especially QA, R&D, and QC laboratories.

Laboratory tables replace conventional tables that do not meet the standards for laboratories. Therefore, the laboratory table is a must-have piece of furniture for all laboratories.
Their usage
The lab table is elementary to use. Just install the desk that fits the space in the office. Tables are usually placed at the base of the wall and can be L-shaped or U-shaped.

After use, the laboratory table should be cleaned and wiped to ensure cleanliness. Laboratory tables will often have electrical outlets, so limiting contact with water or chemicals is necessary to avoid damage.

For cleaning can use mild soap solution or different types of cleaning solutions. Then dry the table with a soft cloth or paper towel.
You can see detailed information on how to clean the lab table here: Clean the lab table properly
Laboratory table of Indochina LFS
The laboratory table of Indochina LFS is designed and installed with stainless steel bolts, creating certainty. The table top is available in various materials, such as phenolic resin, epoxy resin, and stainless steel,…
Phenolic resin table top, epoxy resin with excellent chemical resistance according to SEFA 3 standard. This tabletop type is also available in a wide range of color options to create a high aesthetic for the lab.
Tables of Indochina LFS can be easily installed, disassembled, and moved when needed. The iron table frame is powder coated with epoxy, moisture and chemical resistant. Thanks to the high-quality iron frame, the table can withstand heavy internal loads for a long time.
Indochina LFS laboratory table also has a better price than imported units thanks to being able to produce directly in the country. Products will go directly to customers without having to go through distributors.
Samples of Indochinese wall-mounted laboratory benches LFS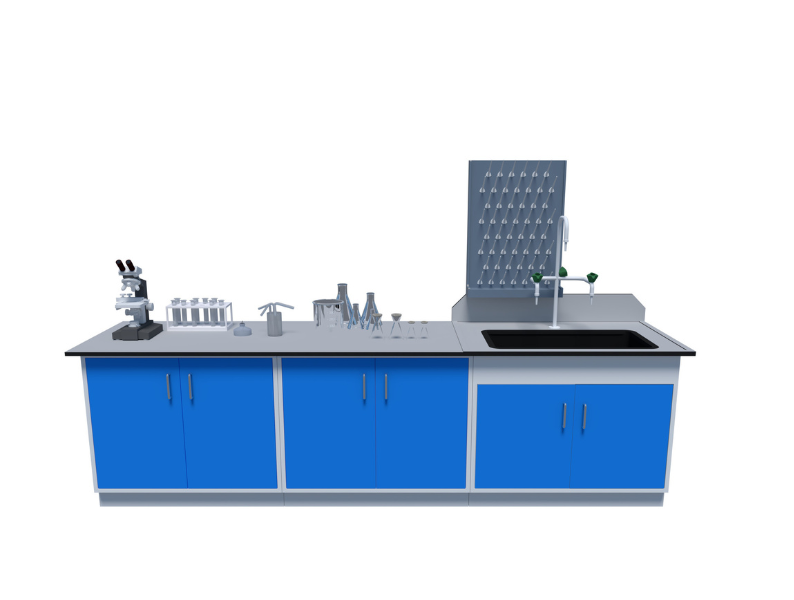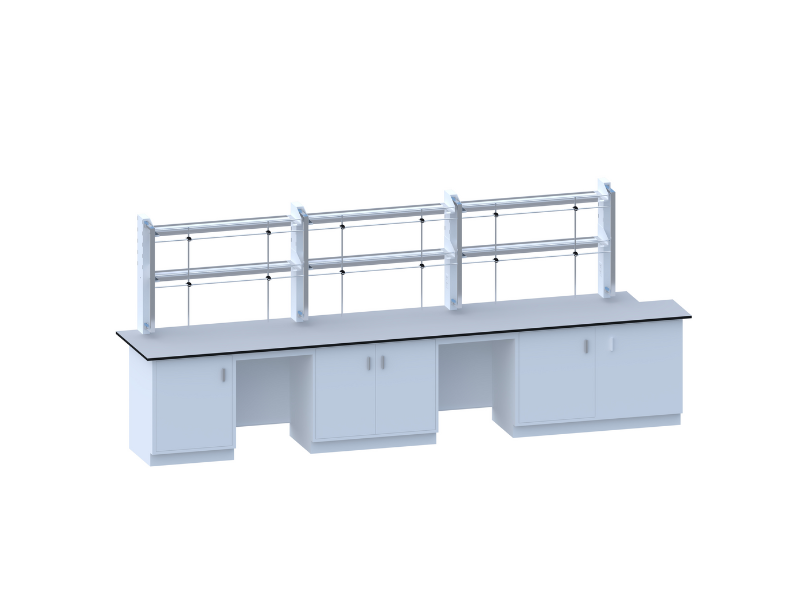 Quotation for wall-mounted laboratory table
Indochina LFS is the ideal address to find out and get a quote for wall-mounted lab benches. This company offers a wide range of products at different prices and is committed to being the most competitive in the market. The product's price ranges from 10 million to more than 40 million dongs, depending on the needs and size of use and the constituent materials. Please get in touch with Indochina LFS immediately to receive the most favorable price.
Today, there are many places to sell laboratory table products, and many customers are often worried about the quality and reputation of these places. However, let Indochina LFS help you solve those worries because this is a leading reputable distributor. At Indochina LFS, you can find wall-mounted lab benches and other equipment for your lab. All products are offered with diverse designs and clear origins from famous brands, ensuring you have complete peace of mind when buying.
With the information that has been shared, I hope you can find the product wall-mounted laboratory table most suitable in Indochina LFS.
Dong Duong Furniture and Services Joint Stock Company is a leading unit in consulting design, manufacturing, and construction of laboratory furniture, laboratory tables, toxic fume hoods, accessories, and more prestige in Vietnam.
Let us help you